Greenwich Village, New York, is one of the most popular neighborhoods in the city for real estate. The area is known for its vibrant and eclectic vibe, a big draw for many home buyers. The neighborhood has a lot to offer new residents, including historic buildings, charming streetscapes, and a lively nightlife and restaurant scene. If you're thinking about buying a home in Greenwich Village, it's essential to be aware of the market trends for buyers, sellers, and investors. This article will look at what has been happening in Greenwich Village and how it has affected each group.
Buyers
Buyers should note that the available number of homes for sale in Greenwich has stayed below
350
per month for the last two years, with an average of 100-250 from March 2020 to January 2021. The available inventory of Greenwich real estate spiked from July through October 2021, with the highest peak of 342 homes for sale before dropping back to approximately 210 in November and December.
Greenwich real estate inventory has dropped to a five-year low of under 15 listings as of January and February 2022. With this sharp drop in inventory, competition in Greenwich Village is expected to be quite fierce for 2022. You should start looking as early as possible, so you're ready to place a bid on your dream home. Buyers should expect they may have to make several offers before they obtain a successful sale.


Buyers interested in condo or townhomes for sale in Greenwich may be pleased to hear that the square footage for listings has been high since October 2021, with a median home size square footage of just under 9,000 through January 2022. The increase in size does come with an increase in cost, but the appeal of larger properties is expected to continue in 2022.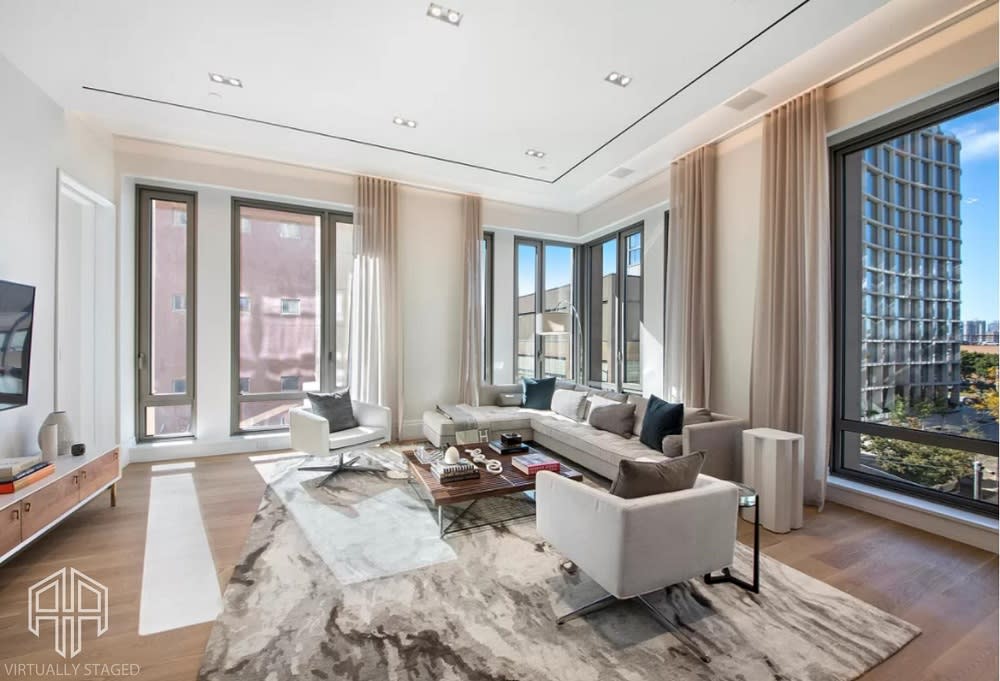 Sellers
The market strongly favors sellers of homes for sale in Greenwich, New York, in 2022. With a lack of real estate inventory at the beginning of the year, now is a fantastic time to list a property.


Sellers should expect their property to linger on the market for as little as two months (64 median days on the market seen in June 2021) and as long as 18 months (469 median days on the market seen in December 2021; 553 median days on the market in October 2020).


As for listing prices, the median for condos and townhomes has stayed between $1,095,000 and $1,495,000 over the past two years, except for January 2022's peak median of $2,695,000 and February's current peak of $2,195,000.


Single-family homes in Greenwich sell far higher, with prices seen generally between $20 to $25 million from March 2020 through April 2021. The median listing price dropped below $10 million by July 2021 but spiked to the two-year high of $26,500,000 in September. Prices fell to $3,495,000 before climbing back to around $20 million median list price in November and December.
Real estate investors
With 65% of households in Greenwich identified as renter-occupied, investing in property here makes a great deal of sense. Studio, one-bedroom, two-bedroom, and three-bedroom properties all enjoyed an increase in median rental income in a year-over-year comparison of January 2022 to January 2021.
Studio real estate had a median rent of $2,279 in January 2021, which increased to $2,673 in January 2022, a $394 increase. Based on the January 2022 median rent, investors can expect to earn up to $32,076 in rental income over one year for a studio unit.



One-bedroom properties had a median rent of $3,528 in January 2021, which rose to $5,079 one year later — an increase of $1,551 in just twelve months. Based on the January 2022 median rent, investors can expect to make up to $60,948 in rental income over twelve months.



Two-bedroom properties generated a median rent of $4,500 in January 2021, which increased to $5,779 in January 2022. Investors can expect to earn up to $69,348 over twelve months if rent stays at the January 2022 median.



Three-bedroom properties for sale brought in a median of $6,677 in rental income in January 2021. The median rent increased to $10,265 in January 2022, which brings in $3,588 more than last year. Based on the January 2022 median rent, investors can earn up to $123,180 in rental income over twelve months.
For investors who prefer to offer their properties for temporary rentals,
Airbnb
indicates the current average rent per person per night for Greenwich real estate is $298. With this average, investors can earn up to $108,770 in temporary rental income if they host at least one guest nightly or a minimum of 365 guests this year.
Having a firm understanding of the current market in Greenwich, New York, will set you up for success when buying or selling your real estate. If you're ready to get started, contact top-producing and trusted local agent
Andrew Azoulay
for expert guidance.